Part of my daily routine includes a bath, every day that I have time for it. It gives me time to wake up, mentally prepare for my day and stare blankly at my feet mentally processing. It's where I get my best ideas and I credit a return to regular bathtime as one of the best lifestyle shifts when I moved from San Francisco to New York.
Bathtub before restoration
Consequently the intact Victorian bathroom with pressed tin walls, no electricity and claw foot bath was one of the things that attracted us to Minion Manor. Like many things in the house there had been some less than ideal DIY and the whole room needed some love.
I spent some time researching the cost of replacing the bath entirely and the modern equivalents didn't appeal – they are mostly acrylic and relatively expensive. To replace my iron bathtub with a new equivalent was going to run to around 4000USD for the tub alone. The bath in my family home growing up was a clawfoot bath that my father had had restored from rusty wreck to shining beauty so I knew such things were possible and after a series of quotes I realised that I could restore my bath for around 400USD a full 10% of replacement cost.
My father's colonial Australian style bathroom
I chose http://www.bathtubrefinishingny.com/ to do the work, they were quick to respond had great customer reviews and a variety of colour finish options. They were able to restore the bath in place and within a day. My only caveat would be I am glad that we were replacing the taps and tiles because despite the contractor's best efforts to cover the walls and floor with paper some of the black enamel still got through and was virtually impossible to get off the floor.
Firstly we had to remove all the hideous 1960s tap fixtures and shower rails so that the plumbing could be disconnected. I had spent some time creating a bathroom ideabook on Houzz and knew what taps I was after – as a person with brightly coloured hair I was more interested in a handshower for removing dye than I was another standing shower so I went for a classic "telephone" tap set.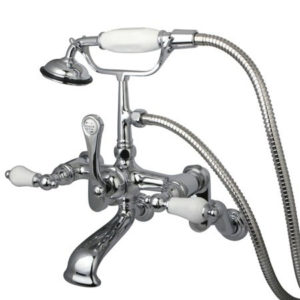 I advise doing as I did and buying these on sale – metalware of this weight is not cheap no matter what you do but by waiting until Black Friday I was able to get this set marked down from $750 to $250 and also find matching taps for the sink.
Then the house paint that had been applied to the tub needed to be scraped off with a razor to expose the clean enamel underneath. I had wrongly assumed that the enamel was damaged and that's why they had painted over it but it seems it was just a misguided attempt to refresh the colours without understanding waterproof materials.
Moving the bath exposed another problem we weren't aware of – the tin / steel panels under the bathtub rim had not been sealed and needed rust treatment. This was relatively easy to fix with a combined anti rust primer paint so that we could put the bath back for the time being.
The bath was then sprayed using an air brush with two types of enamel – white for inside the bath and black for the outside. I was hoping to get brass feet for the bath like I am used to in Australia but the feet were built into the bath itself and so had to be spreayed black as well.
The taps were installed as well as new water lines behind the bath and later a built in plug was added to the drain. Add in a reading rack and my perfect mornings were made.